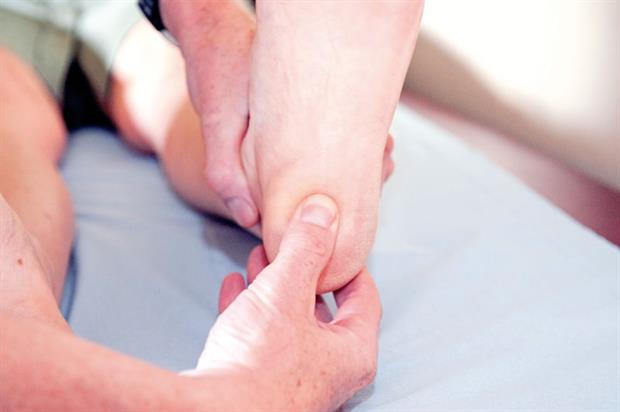 Overview
Plantar fasciitis is thickening of the plantar fascia, a band of tissue running underneath the sole of the foot. The thickening can be due to recent damage or injury, or can be because of an accumulation of smaller injuries over the years. Plantar fasciitis can be painful.
Causes
Factors which may contribute to plantar fasciitis and heel spurs include a sudden increase in daily activities, increase in weight (not usually a problem with runners), or a change of shoes. Dramatic increase in training intensity or duration may cause plantar fasciitis. Shoes that are too flexible in the middle of the arch or shoes that bend before the toe joints will cause an increase in tension in the plantar fascia. Even though you may have run in shoes that are flexible before, now that you have developed plantar fasciitis, make certain that your shoe is stable and does not bend in the midfoot. Check and be certain that your shoes are not excessively worn. Shoes that do not sufficiently control excessive pronation combined with an increase in training can lead to this condition. A change in running style or parameters, such as starting speed work, running on the ball of your foot or sudden increase in hill workouts may lead to problems. All changes should be gradual and not abrupt. Gait changes such as altering your foot strike, switching shoe style, running barefoot or in minimalist shoes should all be made gradually and not abruptly. The "terrible too's" of too much, too soon, too often with too little rest also applies to "too many changes with too little adaptation". Make your changes gradually and allow your muscles, bones, and other body structures to adapt to the alterations you may be attempting.
Symptoms
Symptoms of plantar fasciitis can occur suddenly or gradually. When they occur suddenly, there is usually intense heel pain on taking the first morning steps, known as first-step pain. This heel pain will often subside as you begin to walk around, but it may return in the late afternoon or evening. When symptoms occur gradually, a more long-lasting form of heel pain will cause you to shorten your stride while running or walking. You also may shift your weight toward the front of the foot, away from the heel.
Diagnosis
To diagnose plantar fasciitis, your doctor will physically examine your foot by testing your reflexes, balance, coordination, muscle strength, and muscle tone. Your doctor may also advise a magnetic resonance imaging (MRI) or X-ray to rule out other others sources of your pain, such as a pinched nerve, stress fracture, or bone spur.
Non Surgical Treatment
More than 90% of patients with plantar fasciitis will improve within 10 months of starting simple treatment methods. Rest. Decreasing or even stopping the activities that make the pain worse is the first step in reducing the pain. You may need to stop athletic activities where your feet pound on hard surfaces (for example, running or step aerobics). Ice. Rolling your foot over a cold water bottle or ice for 20 minutes is effective. This can be done 3 to 4 times a day. Nonsteroidal anti-inflammatory medication. Drugs such as ibuprofen or naproxen reduce pain and inflammation. Using the medication for more than 1 month should be reviewed with your primary care doctor. Exercise. Plantar fasciitis is aggravated by tight muscles in your feet and calves. Stretching your calves and plantar fascia is the most effective way to relieve the pain that comes with this condition. Cortisone injections. Cortisone, a type of steroid, is a powerful anti-inflammatory medication. It can be injected into the plantar fascia to reduce inflammation and pain. Your doctor may limit your injections. Multiple steroid injections can cause the plantar fascia to rupture (tear), which can lead to a flat foot and chronic pain. Soft heel pads can provide extra support. Supportive shoes and orthotics. Shoes with thick soles and extra cushioning can reduce pain with standing and walking. As you step and your heel strikes the ground, a significant amount of tension is placed on the fascia, which causes microtrauma (tiny tears in the tissue). A cushioned shoe or insert reduces this tension and the microtrauma that occurs with every step. Soft silicone heel pads are inexpensive and work by elevating and cushioning your heel. Pre-made or custom orthotics (shoe inserts) are also helpful. Night splints. Most people sleep with their feet pointed down. This relaxes the plantar fascia and is one of the reasons for morning heel pain. A night splint stretches the plantar fascia while you sleep. Although it can be difficult to sleep with, a night splint is very effective and does not have to be used once the pain is gone. Physical therapy. Your doctor may suggest that you work with a physical therapist on an exercise program that focuses on stretching your calf muscles and plantar fascia. In addition to exercises like the ones mentioned above, a physical therapy program may involve specialized ice treatments, massage, and medication to decrease inflammation around the plantar fascia. Extracorporeal shockwave therapy (ESWT). During this procedure, high-energy shockwave impulses stimulate the healing process in damaged plantar fascia tissue. ESWT has not shown consistent results and, therefore, is not commonly performed. ESWT is noninvasive-it does not require a surgical incision. Because of the minimal risk involved, ESWT is sometimes tried before surgery is considered.
Surgical Treatment
In very rare cases plantar fascia surgery is suggested, as a last resort. In this case the surgeon makes an incision into the ligament, partially cutting the plantar fascia to release it. If a heel spur is present, the surgeon will remove it. Plantar Fasciitis surgery should always be considered the last resort when all the conventional treatment methods have failed to succeed. Endoscopic plantar fasciotomy (EPF) is a form of surgery whereby two incisions are made around the heel and the ligament is being detached from the heel bone allowing the new ligament to develop in the same place. In some cases the surgeon may decide to remove the heel spur itself, if present. Just like any type of surgery, Plantar Fascia surgery comes with certain risks and side effects. For example, the arch of the foot may drop and become weak. Wearing an arch support after surgery is therefore recommended. Heel spur surgeries may also do some damage to veins and arteries of your foot that allow blood supply in the area. This will increase the time of recovery.